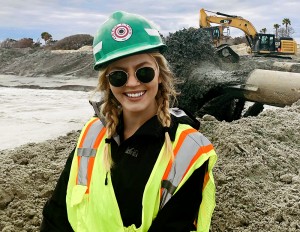 CSE welcomes new research assistant, Mariah McBride, a specialist in coastal sustainability issues. She brings expertise in Sargassum impacts and is helping CSE in several areas related to the impacts of Sargassum strandings, the economics of beach nourishment and related coastal vulnerability projects.
Graduating Valedictorian from Texas A&M University-Galveston in 2018, Mariah earned a Bachelor of Science in Maritime Public Policy and Communication, along with a double minor in Ocean & Coastal Resources and Geology. Her academic courses concentrated in environmental management, the mitigation of anthropogenic impacts, environmental economics, coastal resources, and sustainability.
Commenting on her background in environmental economics, Mariah said, "I understand the necessity of establishing feasible, resilient, and long-lasting practices in order to achieve a sustainable shoreline, along with the importance of communicating the risks of extreme coastal events to communities and the public/private sector."
Mariah's previous research projects included assessment of the environmental-economic impacts of hypoxic coastal "dead zones" and management of microalgae blooms at the source for mitigation purposes. After observing the coastal devastation caused by extreme Sargassum landing events, she focused on Sargassum (macro algae) landings and their economic and environmental impacts on coastal communities. In 2018, she authored, "Sargassum Movement and Landing Cost Projections as Functions of North Atlantic Oscillation Variation and pH Differentials" [Shore & Beach: Journal of the American Shore and Beach Preservation Association (ASBPA), Summer 2018, 86:3, p. 30]. At CSE, Mariah has completed the 2019 Jumby Bay Island Sargassum Assessment: Preliminary Report, which was prepared for the Jumby Bay Island Company.
Previously, Mariah served as an undergraduate research fellow for the Center for Texas Beaches & Shores (CTBS), where she performed coastal economic assessments for the CTBS and contributed to policy proposals. In 2018, she interned with the US Environmental Protection Agency (EPA) in Washington, DC, providing "blue economy" consultation to three high-priority US territory islands facing critical levels of coral reef degradation.
Mariah plans to eventually attend graduate school, continuing to specialize in environmental economics and coastal sustainability. Her research assistantship at CSE follows six graduate researchers from the Technical University of Delft (TU Delft) who CSE sponsored in 2017 and 2018. (See previously posted articles.)