ACEC-SC President, Jerry Carter, presented the award on 5 February 2013 to representatives of the project team: Dr Haiqing Kaczkowski PE, project engineer; Dr. Tim Kana, president of CSE; and Steven Traynum, assistant project manager.  Funding for the $35 million project was 100 percent local sources under the auspices of the Town of Nags Head.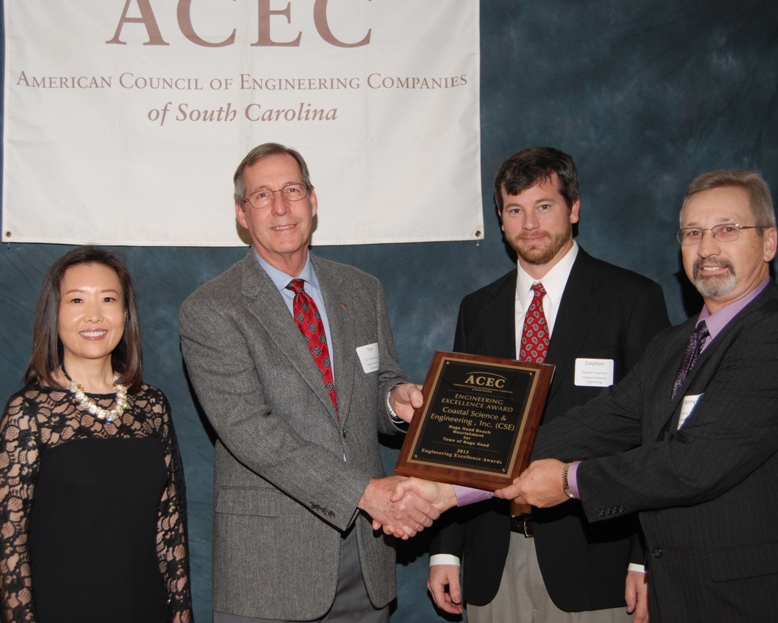 Engineering Excellence is an annual competition sponsored by the American Council of Engineering Companies (ACEC) and its member organizations.  It recognizes engineering achievements which demonstrate the highest degree of merit and ingenuity.  The ACEC-SC competition is open to all firms engaged in the practice of consulting engineering.  Projects must have been designed in the state of South Carolina with construction substantially completed between 1 November 2010 and 31 October 2012.  Projects could have been constructed anywhere in the world as long as they were designed in South Carolina.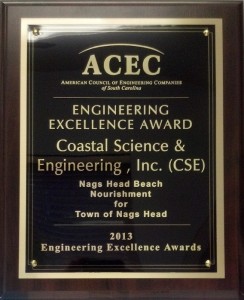 A distinguished panel of judges was selected.  Each judge separately reviewed the projects.  Criteria for judging included original or innovative application of new or existing techniques; future value to the engineering profession and perception by the public; social, economic, and sustainable design considerations; complexity; and exceeding the needs of the owner/clients.  The Nags Head beach nourishment project and seven other entries were judged to be the best overall and were eligible to enter the national competition.
Project Executive Summary
Nags Head is located along the Outer Banks of North Carolina and has sustained chronic erosion over the past 50 years.  Coastal Science & Engineering (CSE) was hired by the Town of Nags Head in 2005 to evaluate alternatives and develop a plan for beach maintenance and property protection.  The least-cost alternative was a beach restoration project providing a minimum of ten years of sand replacement plus advance nourishment to extend the design life for the benefit of the community.
The project involved dredging 4.6 million cubic yards (cy) of sand from offshore borrow areas and placing it onto the 10-mile stretch of beach in Nags Head.  Permitting involved over five years of environmental reviews because of the need to work during fair-weather summer months in the relatively high-energy setting.  The average fill density was 86 cubic yards per foot (cy/ft) and ranged from 50 cy/ft to 170 cy/ft from north to south in relation to historical erosion rates.  The contractor (Great Lakes Dredge & Dock Company) used three ocean-certified hopper dredges and one cutterhead suction dredge, constructing the project between 24 May and 27 October 2011.  The project was completed under budget, on time, and without any environmental incidents.
Nags Head beach nourishment is the first Outer Banks project and the largest locally-funded beach restoration accomplished to date in the United States.  Its funding structure, innovative design methods, successful implementation below budget with environmental protection measures, and its favorable response to the 2011 and 2012 hurricane seasons offer guidance for future projects in coastal storm protection and restoration.