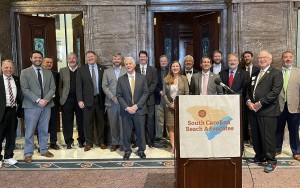 On February 15, 2023, CSE's Steven Traynum and Patrick Barrineau joined members of SC Beach Advocates at a SC State House press conference to support a bipartisan bill that would create a state fund to subsidize local beach nourishment projects. The Fish, Game, and Forestry Committee unanimously voted to send the bill to the full Senate for consideration.
The proposed fund, controlled by the SC Parks, Recreation & Tourism Department, would designate 25 percent of the state's entertainment admissions tax for beach nourishment. The admission tax is a 5 percent charge on movie and concert tickets that feeds into the state's general fund. If the bill passes, an estimated $10.4 million would be available in 2024 to match local government fees for non-federally financed portions of projects.
The cost-share program would be welcomed by coastal communities that sponsor beach nourishment projects which can exceed $10 million in fees. The additional funds combined with local taxes and Federal aid would affirm that the state of SC is invested in its beaches and the $23.8 billion tourism industry they support.
Proponents of the beach nourishment fund argue that beaches are a statewide treasure that needs a strategic, long-term investment in periodic maintenance. Beach tourism produces a generous portion of state revenue. In 2022, five coastal counties generated $82.6 million in state accommodations taxes, $31.1 million in state admissions taxes, and over 50% of state sales taxes (far outweighing the proposed $10 million per year funded by the proposed bill).
According to Senator Chip Campson, R-Isle of Palms, "South Carolina beaches receive more day visits each year than all the country's national parks combined. [The fund] more than pays for itself. This is a good investment."