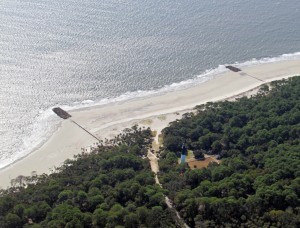 CSE's shore-protection philosophy emphasizes soft-engineering solutions to erosion in conformance with best-management practices in the coastal zone.  However, certain locations and facilities may require the use of hard structures at the water's edge to provide permanent protection, safe access, or increased project life of nourishment.  Our design of coastal structures treats the shoreline as a dynamic zone, anticipating the natural processes such as erosion, storm surges, longshore transport, and sedimentation which affect the performances of structures.
In many cases, CSE has served as a specialty consultant to civil engineers, providing detailed prediction of waves, water levels, and erosion rates at a site.  Work completed by CSE has included structure de­sign requiring analytical modeling and optimization of armor sizes and toe stability.  Our work for landscape architects has included conceptual layout of coastal resort facilities and amenities, site analysis for marinas, and construction of artifi­cial beaches.
CSE has developed designs and supervised construction and post-project monitoring for groins at a limited number of sites where nourishment alone has proven ineffective.  Projects include terminal groins at Debidue Beach (conceptual plan 1985), groin rehabilitation at Edisto Beach (1995) and Pawleys Island (1998), terminal groin at Folly Beach County Park (2003, 2012), and groins at Hunting Island State Park (2007).  CSE's coastal structures experience includes evaluation of a range of types and materials in diverse settings including the following sites.
DREDGING AND DREDGED MATERIAL DISPOSAL
Formulation of Long Term Dredging and Disposal Plans
3D Modeling of Dredge Channel Design
Chemical and Physical Analyses of Dredged Material
Dredge and Fill Permitting
Confined Disposal Area and Hydraulic Structures
Groundwater Impact Assessment
Disposal Alternative Studies
Preparation and Administration of Dredging and Disposal Contracts