Project: Beach Restoration
Client: Town of Nags Head
Dates of Services: 2004-2011
Construction Dates: May 2011 – October 2011
Construction Cost: $30,200,000
CSE Fees: $1,300,000
Services Provided:
Preparation of approved EIS
Nourishment design
State and federal permitting
Collection and analysis of sediment characteristics
Hydrodynamic modeling
Construction observation
CSE worked with the Town of Nags Head (NC) to develop and implement a large-scale, beach nourishment project along 10 miles of shoreline. The project was designed to replace at least ten years' worth of sand losses along Nags Head and increase storm protection, recreational area, and habitat protection. CSE's design built on previous studies by the USACE in support of an approved, but unfunded, federal project in Dare County (NC).
The project involved excavations via hopper and hydraulic dredges of quality sand from offshore borrow areas. Over 4.6 million cubic yards were added to the beach, widening it by an average of 75 feet. Work was accomplished over a five-month period (May–October) with associated environmental protection measures. During construction, the project was impacted by Hurricane Irene and several northeast storms with no net loss of sand from the immediate project area. In addition to restoring a recreational beach, the project helped renew the local real estate market for oceanfront properties which had been dormant because of severe erosion prior to the project. Nags Head is the largest, locally-funded, beach nourishment project accomplished to date in the United States.
CSE's services for the Town included evaluation of alternatives, collection of coastal process data, designing, and then obtaining permits for the first large-scale beach nourishment project along the Outer Banks of North Carolina. CSE used in-house personnel and equpiment to collect beach profile data, collect sediment quality data along the beach and in the borrow area, prepare an approved environmental impact statement, prepare construction documents, and provide construction administration. CSE worked closely with local, state, and federal officials, as well as the dredging industry to coordinate a summer dredging construction window due to logistical and safety concerns associated with winter dredging along the Outer Banks and concerns over the threatened loggerhead sea turtle.
The project as designed by CSE met or exceeded state and federal environmental protection requirements, while allowing for efficient construction. Construction bids were below the Town's budget, offering the opportunity to construct a larger project at a reduced cost. Completed in the summer of 2011, there were no incidents involving threatened or endangered species.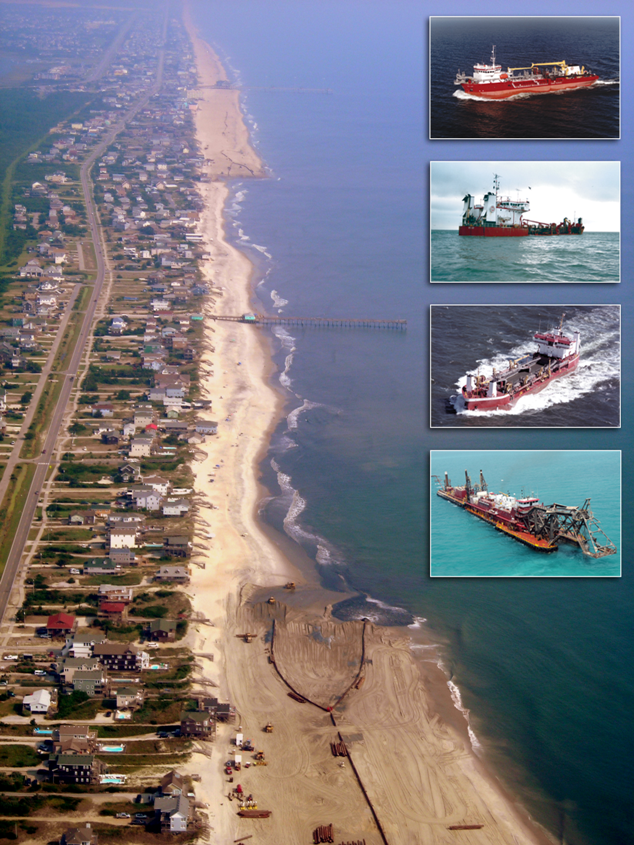 Aerial photo taken on 22 July 2011. The Liberty Island (hopper dredge upper inset on the photo) was pumping south, and the Texas (hydraulic dredge bottom inset on the photo) was pumping north. The Dodge Island and the Padre Island (middle two hopper dredges inset on the photo) later mobilized to the job site for the final sections.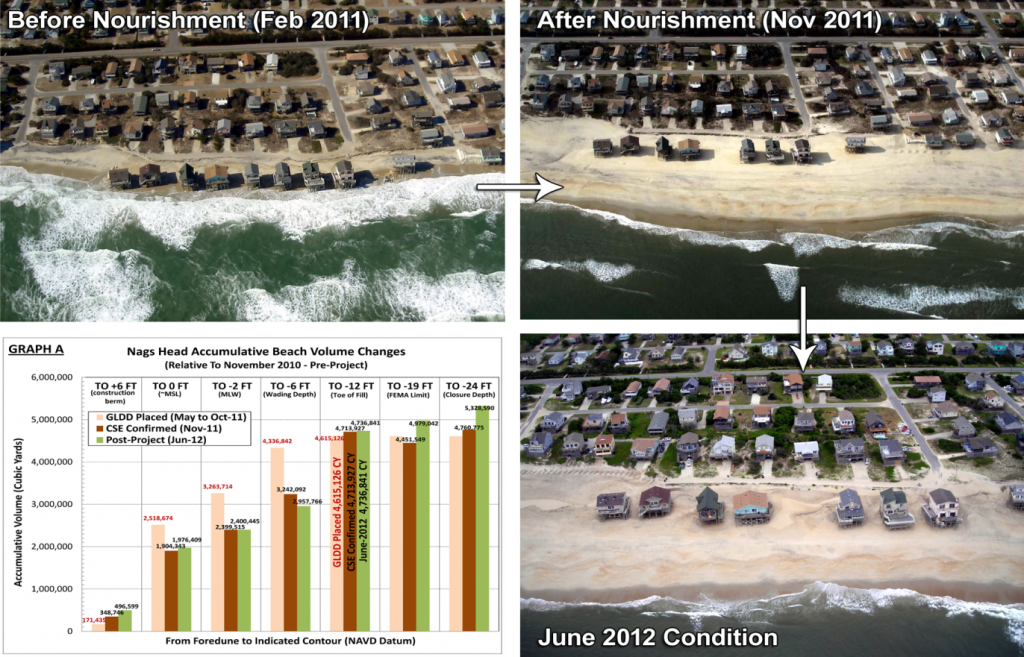 Aerial photos taken before and after nourishment show that ~180 ft of dry beach were added in front of the houses during the project, and the nourished beach remained healthy after Hurricane Irene and fall storms. Bottom left bar-figure indicates the accumulative beach volume changes relative to pre-project conditions (November 2011) from the foredune to the indicated contours.  Fully 100% of the volume placed has been retained within the project limits during the first year.  Click to enlarge