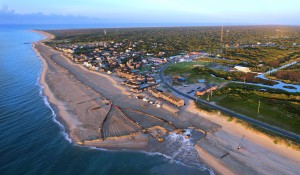 On August 16, 2022, Great Lakes Dredge & Dock Co. (GLDD) delivered the last load for CSE's second beach nourishment project at the Village of Buxton. The project used two dredges (Ellis Island and Liberty Island) to pump 1.2 million cubic yards of sand along 2.9 miles of oceanfront from the Haulover Day Use Area to the ocean groin field near the former location of Cape Hatteras Lighthouse. An initial frontal dune with a typical width of 20 feet was also built along the Village of Buxton to provide storm protection along this highly eroding area.
The Buxton renourishment project is one of two projects CSE manages for Dare County, NC. The neighboring beach fronting the Village of Avon was nourished simultaneously with Buxton to achieve optimal production and cost savings for each project. With the flexibility of having both the Ellis Island and the Liberty Island on site in Dare County, GLDD switched dredge assignments between Buxton and Avon to complete the project in 48 days, minimizing interruptions for oceanfront property owners, residents, and beachgoers.
GLDD began the Buxton renourishment project with America's largest hopper dredge, the Ellis Island, on Sunday, June 30, 2022, using a submerged pipeline near South Tower Circle. The Ellis Island is America's largest dredge, with a capacity of over 10,000 cubic yards of sand per load. During the 26 days when the Ellis Island worked at the Buxton job site, it completed 668,000 cubic yards of sand placement. This quantity is equivalent to approximately 56 percent of the total project volume.
By comparison, the second hopper dredge, the Liberty Island, has half the capacity per load, but it only requires half of the digging and pumping turnaround time. During the 20 days of working in Buxton, the Liberty Island was able to place approximately 532,000 cubic yards of sand. This quantity is equivalent to roughly 44 percent of the total project volume.
Buxton's first beach nourishment project was completed between June 21, 2017, and February 27, 2018, along the same stretch of oceanfront as the 2022 renourishment project. The primary purpose of the 2017–2018 project was to provide a wider beach and buffer storm waves along this critically eroding section of Hatteras Island. It was designed to reduce the frequency of storm damage to N.C. Highway 12 and the existing community infrastructure. Approximately 2.6 million cubic yards of beach-quality sand was excavated from an offshore borrow area and placed along the 2.9-mile stretch of shoreline.
After project completion, the newly nourished beach withstood a series of nor'easters in March 2018. It also endured Hurricane Florence in September 2018, Hurricane Dorian in September 2019, and other winter storms without much interruption to N.C. Highway 12 traffic or damage to the Buxton oceanfront properties. However, nourishment sand was lost outside of the project area after each weather event since project completion, and Buxton returned to pre-nourishment conditions before the 2022 renourishment project was implemented. Some sand bags were exposed due to erosion, and property owners installed new sand bags as a temporary shoreline protection measure. The loss of dry beach made N.C. Highway 12 vulnerable to flooding and breaching once again.
The 2022 renourishment is similar to the 2017–2018 nourishment in its construction method, construction window, and potential environmental impact but smaller in scale (ie – 1.2 million cubic yards in 2022 versus 2.6 million cubic yards in 2017). A significant difference between the two projects is the dune construction. No dune was constructed in 2017. Dare County chose to integrate an initial dune in the 2022 Buxton renourishment plan to establish uniform standards for enhancing dune growth and coastal resiliency.
CSE thanks Dare County for the opportunity to serve as engineer for this successful renourishment project.