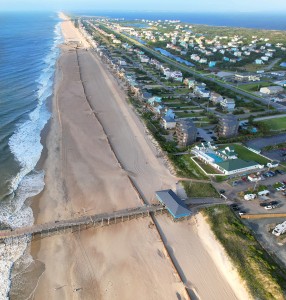 CSE and Great Lakes Dredge & Dock Co. (GLDD) have completed the 1 million cubic yard Avon Village beach nourishment project. The project included using two dredges (Ellis Island and Liberty Island) to nourish two and a half miles (13,200 feet) of oceanfront and constructing a new frontal dune south of the Avon Pier.
The Avon Village project is one of two projects CSE manages for Dare County, NC. The neighboring beach fronting the Village of Buxton was nourished simultaneously with Avon to achieve optimal production and cost savings for each project. With the flexibility of having both the Ellis Island and the Liberty Island on site in Dare County, GLDD switched dredge assignments between Buxton and Avon to complete the project in only 38 days, minimizing interruptions for oceanfront property owners, residents, and beachgoers.
GLDD elected to start the Avon nourishment with America's largest hopper dredge, the Ellis Island, on Sunday, June 19, 2022. The Ellis Island used a submerged pipeline that was placed on the oceanfront near the public beach access at Greenwood Place. The dredge first pumped south for five days and completed nourishment of ~3,200 feet of oceanfront from the landing point to the southern boundary of the project near NPS ORV Ramp 38, and then started pumping north on Friday, June 24, 2022, to complete a ~2,000-foot section from the landing point to the oceanfront near Pampas Drive by Wednesday, June 29, 2022.
Work was paused for eight days until the arrival of the second hopper dredge, the Liberty Island, on Friday, July 8, 2022. The Liberty Island used a second submerged pipeline approximately 500 feet north of the Avon Pier. The dredge first pumped south for two days through the pier, and then the pumping direction was flipped toward the north until the northern project boundary at Due East Road was reached on Friday, July 15, 2022. The final section between the pier and Pampas Drive was nourished between July 17, 2022, and July 26, 2022, to complete the project volume of 1 million cubic yards.
Sand fencing and vegetation are components of the Avon beach nourishment project, and form part of the overall dune management plan. Dare County will install sand fencing and plant vegetation along the section of oceanfront south of the Avon Pier where the initial dune was constructed. To comply with the North Carolina Coastal Area Management Act (CAMA) permit conditions, this work will be conducted outside of sea turtle nesting season (after November 15, 2022).
These nourishment projects are part of an ongoing long-term coastal management plan to replenish sand lost due to chronic erosion and hurricanes, increase storm protection for oceanfront properties and infrastructure, widen the recreational beach, and provide additional natural habitat for wildlife. CSE thanks Dare County for this opportunity to serve as engineer for this successful nourishment project.